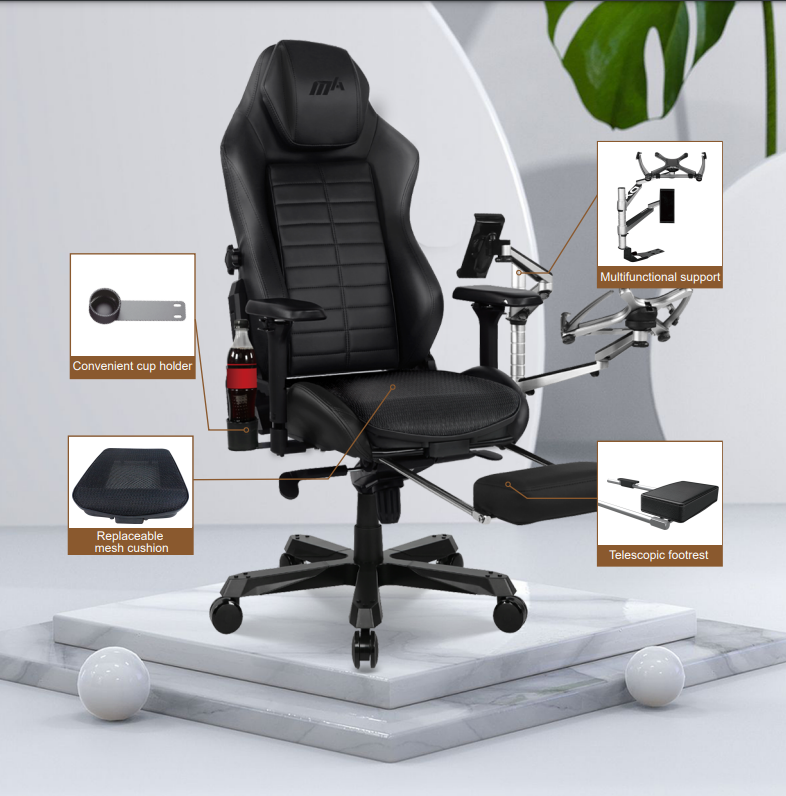 The DXRacer Master is the first modular gaming chair in the world. The chair's modular design makes it possible for users to achieve optimal posture for both gaming and working. Our modular parts aren't just for personalization; they're also designed to help you declutter and set up your space for maximum productivity. The idea behind this chair's design is that the various components and parts are freely removable and installable without compromising the seating experience.

Our quality microfiber leather covers the seat and back of this chair, making it extremely comfortable to sit in. You may easily switch out the seat cushions for a different type when the seasons change, such as mesh cushions in the summer or microfiber cushions in the winter. This is a great way to stay fresh and cool during the summer season as well as cozy and warm during the winter months. Do you think that's the end of it? Of course not. You may effortlessly add or remove components like the seat cushion, multi-functional support, cup holder, and pull-out footrest based on your needs and desired sitting posture.

Inheriting the ergonomic support of the standard gaming chair and upgrading upon it, master's modular design does not compromise comfort. It is simple to adjust the height of the sliding foam pillow, which better conforms to the shape of the head and relieves more pressure, thus preventing muscle stiffness and pain. The integrated lumbar support design of the backrest provides perfect spinal support for the entire back of the user. The innovative 4D armrest, which can be adjusted in four dimensions, offers comfortable posture and ideal support for the forearms and wrists. The safe recline angle and rocking mode can be personalized to suit your most ideal position, bringing you a sense of zero gravity experience.

Accolades have been piling up alongside the steadily growing demand for the brand-new chair. Two prizes were awarded to the DXRacer Master for its design at the 2021 MUSE Design Awards. The DXRacer was the winner of the Gold Award in the Office Furniture. The Master Series was awarded second place in the Seating & Comfort Furniture. We are now working on the development of chairs that have a streamlined appearance, provide users greater flexibility in modular parts, and maintain a high level of comfort. As a result, we were able to design the perfect and most comfortable chair.